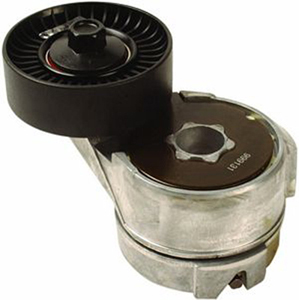 | | |
| --- | --- |
| | |
The Goodyear Gatorback™ Belt Tensioners are engineered for each application so that the belt remains at a nearly constant tension throughout the entire operating range. This insures a maximum accessory drive component life, while still preventing belt slip. The Goodyear Gatorback™ Belt Tensioners have an operating range, plus extra travel for loading (NOTE: Belt tensioners will be correct only if the belt length is correct and the indicator is within the operating range). The Goodyear Gatorback™ Belt Tensioners also help to dampen the belt and accessory vibrations, which are normal but otherwise uncontrolled and unpleasent. Belt tensioners generally do not require additional servicing and will self-adjust for normal belt elongation. Each Goodyear Gatorback™ Belt Tensioner is designed so that the belt tension, frictional dampening and amount of belt take-up are ideal for its application. OE Form, Fit and Function. Gatorback® Belt Tensioners are designed to match, so you can be sure it will install – and perform – as well as the OE tensioner. Plus the Gatorback line is engineered for approximately 80% of the world's vehicles so you can count on great coverage.
Goodyear Gatorback™ Belt Tensioner Advantages:
Maintains its correct alignment to the belt

Automatically maintains correct accessory belt tension

Automatically dampens normal accessory system vibrations

Eliminates need to adjust / re-tension belts

Prevents belt slip (noise / excessive belt wear)

Optimizes belt life

Provides for indication of correct belt length

Provides indication of excessive belt stretch (replacement)

Improves belt system alignment

Extends accessory system component life
Tech Tip:
Consider changing the belt tensioner when changing the serpentine belt. Due to belts and tensioners having similar OE "design life targets"' it is often a best practice to replace the belt tensioner when replacing a worn or broken Poly-V® belt. Belt removal is required to change the tensioner. Therefore both together will:
Extend accessory drive life

Result in lower overall labor costs versus performing
these services separately
WARNING: Under no circumstance should a tensioner assembly be opened to attempt repair of the internal parts as the spring is powerful and preloaded and may cause serious injury. Always replace a worn tensioner assembly with a new assembly, as there are no serviceable internal parts. The only part that my be replaced is the pulley.