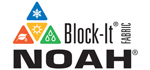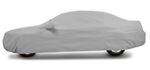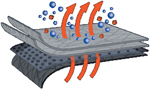 Features:
Provides maximum all weather protection, highly water resistant, dust resistant, UV resistant, and breathable to make sure moisture and/or heat don't stay under the cover.

Protective Outer Layers - A bi-component spunbond, using sheath-core technology. The inner core is polypropylene for strength, with a polyethylene wrap for softness. A silver-gray color was selected because of its heat-resistant properties. The fabric is also treated with UV inhibitors for extended outdoor use.

Micro-Porous Middle Layer - The barrier layer is breathable film, a proprietary stretch-film technology developed exclusively for Kimberly-Clark. The film is stretched and subjected to a chemical process that creates microscopic holes smaller than droplets of water or dust, yet large enough to allow moisture vapor to escape.

Soft, Paint-Protecting Inner Layer - A bi-component fabric made with polyethylene and nylon. This combination results in an exceptionally high strength-to-weight ratio, with the "soft touch" necessary for today's water-based paint finishes.