Technical Highlights:
Covers Passat, Passat wagon and 4motion models built on the B5 platform.

Large step-by-step maintenance section.

Engine and cylinder head service, including timing belt and camshaft replacement.

Component testing, removal and installation for engine lubrication, cooling, and exhaust systems.

Fuel supply service, including fuel pump delivery and electrical checks, EVAP system, and mechanical and electronic throttle control (E-gas).

Fuel injection and ignition system component identification, electrical testing, technical data, and throttle valve control module adaptation using the factory scan tool

Suspension component replacement, including struts, stabilizer bar, multi-link elements, and wheel bearings.

Drivetrain maintenance, troubleshooting, adjustment and repair, including hydraulic clutch, gearshift linkage, and axles.

Repair information for ABS/EDL/ASR brake systems.

Body adjustment and repairs, including doors, fenders, trim panels, bumpers, hood, lids, lights, instrument panel/dashboard, sunroof, seatbelts, and seats.

Heating and air-conditioning repair, including A/C electrical component replacement and vacuum hose layout.

Factory wiring diagrams and component locations.

Volkswagen OBD II diagnostic trouble codes section with SAE and manufacturer defined P-codes, control module coding and readiness codes.

Comprehensive Volkswagen factory tolerances, wear limits, adjustments, and tightening torques.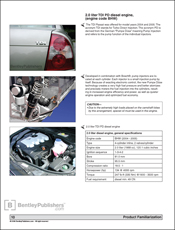 Color Volkswagen Passat
Familiarization section