If your not sure what part you need for your vehicle
Please visit our Ebay store to find auto parts for your car or light truck.
There you can easily search by year-make-model
Eastern Catalytic Converters are certificated in over 58 countries around the globe. Continual improvements in design, production, and product delivery systems have made Eastern the smart choice in Direct-Fit catalytic converters. Eastern Catalytic provides catalytic converter coverage for cars, light trucks, SUVs, and vans. Each catalytic converter is built to meet or exceed OEM specs with OE-quality flanges and flex assemblies. They feature proprietary catalytic converter chemistry and high-flow design that maximizes engine output and catalytic efficiency. Eastern Catalytic utilizes nanotechnology, which is the manufacturing and manipulation of materials at the molecular or atomic level, guaranteeing you a well-built, long-lasting catalytic converter. The Direct-Fit Catalytic Converters include Eastern's Value Pack™ installation kits with everything you need for a fast, easy installation.
Please Note: We do not ship any Catalytic Converters To The State of California
Installation Kit Includes:
Air tube and hose clamps

Manifold nuts and bolts

Fuel injector air tube connector

Air tube plug

Complete installation instructions
Why Do Catalytic Converters Fail:
Melted Brick - Engine operating too hot

Oil-Fouled Brick - Engine oil is getting into the exhaust

Plugged Brick - Incomplete combustion by-products have plugged the holes

Burned Converter - Exhaust temperature too hot

Road Damage - Impact under the vehicle crushed the converter
Signs Of Need To Replace Your Catalytic Converter:
The most accurate way to determine converter failure is by tests such as those used in state and local inspection programs.
But the following symptoms may indicate need for converter replacement:
Broken or rusted-out converter body or end tubes

Fragments of substrate in other sections of the exhaust system

Absence of a rattle in a pelletized converter
(if there's no rattle, the pellets may have melted together or fallen out)

Presence of a rattle in a monolithic converter
(a rattle in this kind of substrate indicates that the substrate has separated).
A thump on a monolithic converter should make a solid sound to indicate
that the substrate is present and is still in one piece
Essential Components of a Catalytic Converters:
The catalytic converter helps control harmful emissions from mobile engine sources by converting the hydrocarbons (HC), nitrogen oxides and carbon monoxide (CO) in the engine's exhaust into carbon dioxide (CO2), nitrogen (N2) and water (H2O) vapor.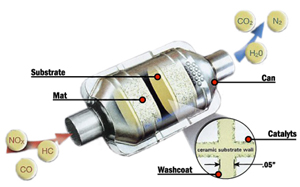 There are five key components:
Substrate—A ceramic honeycomb-like structure with thousands of parallel channels that provide a large surface area
for the application of the washcoat and precious-metal catalysts. This is the clean-air enabler at the heart of the catalytic converter.

Washcoat—A coating in which the catalysts are suspended that increases the surface area of the substrate.
When applied, it forms a rough, irregular surface that provides more places for precious-metal catalysts and makes the converter more efficient.

Catalysts— A combination of precious metals that is suspended in the washcoat before application to the core.
Chemical reactions between the catalysts and engine emissions help convert noxious emissions into less harmful gases and water vapor.

Mat—A wrapping surrounding the catalyzed substrate that provides thermal insulation and protects against mechanical shock and chassis vibration.
Mats are available in a variety of densities, thicknesses, and compositions.

Can—A metal package that encases the catalyzed substrate and mat, and integrates it into the exhaust system.
Sample's of Catalytic Converters:


2006 Volkswagen 2005 Nissan


2000 Ford 2008 Toyota
Catalytic Converters Applications:
Acura Catalytic Converter

American Motors Catalytic Converter

Audi Catalytic Converter

BMW Catalytic Converter

Buick Catalytic Converter

Cadillac Catalytic Converter

Chevrolet Catalytic Converter

Chrysler Catalytic Converter

Daewoo Catalytic Converter

Dihatsu Catalytic Converter

Dodge Catalytic Converter

Eagle Catalytic Converter

Ford Catalytic Converter

Geo Catalytic Converter

Honda Catalytic Converter

Hyundai Catalytic Converter

Infiniti Catalytic Converter

Isuzu Catalytic Converter

Jaguar Catalytic Converter

Kia Catalytic Converter

Lexus Catalytic Converter

Lincoln Catalytic Converter

Mazda Catalytic Converter

Mercedes Catalytic Converter

Mercury Catalytic Converter

Merkur Catalytic Converter

MG Catalytic Converter

Mitsubishi Catalytic Converter

Nissan Catalytic Converter

Olsmobile Catalytic Converter

Peugot Catalytic Converter

Plymouth Catalytic Converter

Pontiac Catalytic Converter

Porsche Catalytic Converter

Renault Catalytic Converter

Saab Catalytic Converter

Saturn Catalytic Converter

Sterling Catalytic Converter

Subaru Catalytic Converter

Suzuki Catalytic Converter

Toyota Catalytic Converter

Volkswagen Catalytic Converter

Volvo Catalytic Converter

Yugo Catalytic Converter