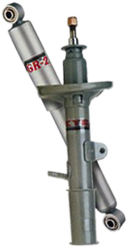 KYB Gas-a-Just Monotube Gas Shocks are for drivers who want high performance handling and response
Monotube design with floating piston for fade-free performance.
Built for high horsepower and high torque applications.
Maximum tire contact and driving control.
KYB GR-2 Twin Tube Gas Shocks and Struts provide a smooth, comfortable ride with excellent control for drivers who are looking for maximum ride comfort
Comfort and control that's often better than when the vehicle was new.
Delivers improved road feel and handling.
Patented check valve maintains performance under rough conditions.
Replaces traditional struts with gas strut performance.
Restores handling and control
The absolute best product to restore handling and control
Components and valving are designed specifically for each application
Calibrated to compensate for worn suspensions
Coverage for domestic and import cars, trucks, and SUVs
Built with quality that matches or exceeds OE.
KYB America LLC manufactures and markets a full line of shocks and struts for replacement, upgrade and performance applications. The KYB line includes GR-2® Premium Shocks and Struts, Gas-a-Just® High Performance Shocks, MonoMax™ Heavy Duty Shocks, AGX® Sport Adjustable Shocks and Struts, strut mounts and boots.

KYB uses its innovative design and advanced engineering to produce state-of-the-art shocks and struts that are recognized worldwide for their proven reliability and superior ride control. There is no comparison when it comes to KYB and other shocks and struts. Unlike other manufacturers, KYB inspects the quality of each and every part. That means fewer comebacks and more satisfied customers.

KYB is the world's largest supplier of shocks and struts to vehicle manufacturers. KYB produces a variety of ride control products for use as original equipment and replacement parts in automobiles, motorcycles, light trucks, buses, rolling stock and industrial applications.

Count on KYB. World class shocks and struts