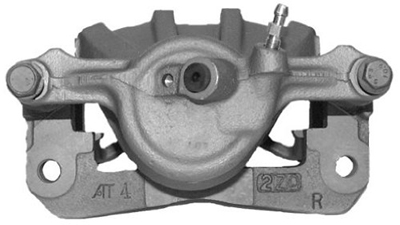 | | |
| --- | --- |
| | |
Complete brake caliper coverage for all American - Foreign - Light truck and H.D. truck applications.
Here are some of the features and Benefits of Calipers Remanufactured by King Kaliper
All units are completely coated with our exclusive "KALKOTE" caliper coating process.

Complete hardware packaging includes pins, clips, springs, keys, etc. to properly mount caliper and necessary for pad installation

Mounting brackets are installed onto the caliper to insure and maintain proper directional pressures (where applicable and available).

All ear work for mounting and sliding is installed on the brake caliper.

Copper washers supplied ( where applicable to insure proper brake hose attachment and prevent leaks.

Bleeder screw cap.

All brake calipers are inspected before assembly for proper threads - hose seating surfaces - boot and seal deterioration - mounting ear alignment and condition.

All sliding rails and grooves are machined polished to insure free movement through mating surfaces.

During assembly all sliders - pins - bolts - sleeves - bushings - bushing boots are coated with specially formulated synthetic greases with Teflon for added lubrication to assure proper sliding forces over an extended period.

Assembly of the hydraulic cylinder is done with the best assembly fluids, that extend rubber life, non - hardening for long life, and is fully compatible with brake fluid.

All rubber parts meet or exceed O.E. and S.A.E. standards

All pistons are processed through centerless polishers then inspected to meet or exceed O.E. micro finish surface.

All hydraulic chambers assembled with vacuum to prevent any damage to seals and insure proper piston movement

All brake calipers are 100% tested to insure a closed system and proper bleeder screw seat; then sealed to deliver a clean fresh cylinder.

All brake calipers are inspected to assure that all areas meet O.E. specifications and dimensions.

All rear mechanized brake calipers are supplied complete with bracket, spring, lever, installed and timed.

A package of specially formulated synthetic grease is supplied to be used at installation on all mounting surfaces, bolts, sleeves, rails, grooves, pins and sleeves. This synthetic grease should also be used on the backs of the disc pads to eliminate noise and come backs.

Complete coverage for all American - Foreign - Light truck and H.D. truck applications.

Innovative packaging insures proper pad type and material selection that was engineered for each application.

Preferred by most A.S.E. certified technicians and brake specialty shops in the rust belt.

Quality engineered to produce long life in the rust belt climate and environment.

Training and sales clinics available.