Pure platinum technology with a unique extended insulator design.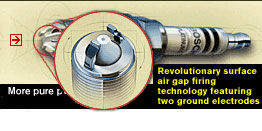 If you want to experience quicker starts, smoother acceleration and top fuel efficiency, Bosch Platinum is the spark plug for you. Only Bosch Platinum features a pure platinum center electrode that's heat-fused into an extended ceramic insulator to eliminate air gaps which exist in platinum alloy-tipped plugs. This superior design reaches its self-cleaning temperature faster. And with a lower ignition voltage requirement, Bosch Platinum provides reliable starting in hot and cold weather extremes and provides a more reliable spark at higher RPM's without misfires.
Features

Benefits

Only Bosch uses a pure platinum center electrode

heat-fused into an extended insulator

Reaches self-cleaning temperature only seconds after starting

Electrode gap remains virtually unchanged throughout the plug's longer service life; no need to clean or re-gap

Heavy-duty tapered ground electrode

For extended service life, reduced electrode temperature, and improved access to air/fuel mixture

Nickel-plated rolled threads

For complete anti-seize and corrosion protection

Lower ignition voltage requirement vs. other plug designs

For reliable cold weather starts and superior operation under all driving conditions.