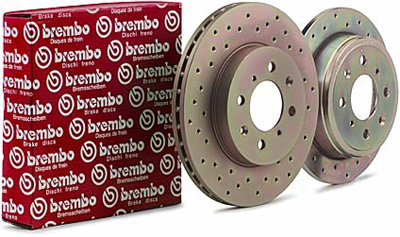 You can have Brembo quality in original equipment replacement brake rotors that are fully compatible with your vehicle's original brake system. And as you would expect, Brembo Brake Rotors are designed to equal or exceed the performance of the original equipment rotors that came on your vehicle. For that matter, in order to provide higher levels of performance and comfort, Brembo even developed one-piece cast brake rotors to replace original equipment two-piece brake rotors that feature economically stamped steel centers fastened to the braking surfaces.
Starting with a casting from a Brembo foundry that assures uniform thickness, Brembo Brake Rotors are machined to exacting tolerances (the rotor run-out tolerance is only 0.0025", about half of the industry norm), feature a braking surface finish (ground or fine turned) compatible with the vehicle's OE specifications and are electronically balanced to minimize the possibility of vibration.
Brembo offers its brake rotors with the same levels of quality, technology and performance that have earned it Dodge Viper, Ferrari, Ford Mustang Cobra and Mercedes-Benz OEM fitments. All Brembo OE Replacement Rotors are manufactured under QS-9000 and ISO 9001 certifications to ensure the highest level of quality. Brembo brake rotors offer applications for most every automobile — domestic to import, compact car to luxury SUV.
NOTE: Brembo Rotors should always be installed in axle pairs to maintain the most effective brake performance.
Together with its unique know-how in the manufacturing of braking systems for high performance vehicles, Brembo is able to guarantee top quality standards and the most advanced technological knowledge, making it a world market leader in its sector. Brembo brake rotors are the natural choice for use in the most sophisticated sports vehicles and high-class saloon cars. Its skill ensures an unsurpassable performance level in the best cars produced in Europe, the USA and Japan today.
The
electronic balancing
system allows to eliminate any possible difference in the weight split of vented discs, avoiding vibration risks.

The perfectly uniform thickness of the braking surfaces ensures top performance, maximum comfort and much higher durability of the components.

The precise finish of the braking surface, ground or fine turned depending on OE specifications, ensures improved pad-discs fit and better running-in.

The extremely precise tolerance guarantees correct run-out values and the elimination of several types of disc vibrations.
Features:
Maximum safety in time:
Careful design, based on advanced calculation systems, controls the heat transmission from the braking surface to the hat section.
Advanced solutions:
the use of specific cast irons, coming from the integration of foundries in the production process, allows for exclusive technical and planning know-how.
High comfort and longer durability:
Exact tolerances guarantee maximum performance of braking system components.
Better synergy between the friction material and disc:
Careful finishing guarantees a turned or ground braking surface as for Original Equipment specifications.
Reduction of vibration risks:
An electronic balancing system is used during the production process to eliminate possible unbalanced weight distribution of ventilated discs.