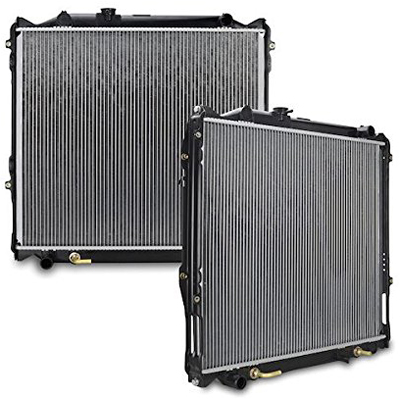 | | |
| --- | --- |
| | |
Visteon engineers use OE heat transfer systems experience and resources to design more efficient radiators that are perfectly matched to their application. Itís a level of technology thatís rare in replacement heat transfer products for the aftermarket.

The Visteon radiator core is an excellent technology example. Because of the lower hood lines of modern day front wheel drive cars, a radiator has less space and airflow to use. To keep engines and transmissions cool, it has to become more efficient, and at the same time, may have to be smaller.

Super-Efficient Core Design Increases Heat Transfer
Innovations such as high efficiency aluminum cores are why Visteon radiator cores are used by virtually 100% of the NASCAR Nextel Cup Series racing teams. No vehicle needs more cooling performance from less airflow than a closed body racecar traveling at 190 mph for three hours. Advanced design Visteon 36mm two-row cores get the job done every race weekend.

Plastic Aluminum Radiators
To make sure Visteon radiators meet the cooling requirements of customer vehicles, we use advanced design technology and quality components to exceed expectations for performance and durability.

Our aftermarket radiators are engineered to meet the cooling requirements of each vehicle's engine and transmission. By focusing on the OE specifications for heat rejection, we assure that our radiators work well with the vehicle's powertrain and climate control systems. To meet OE standards, we also use superior tube and fin designs.

Visteonģ Performance Radiators With Attached Cooling Fans
Designed for hard core racing and ultimate street performance, Visteon Performance Radiators are handcrafted using advanced racing cores and heliarc welded aluminum stock - just like the radiators used in NASCAR racecars.

The tanks are expertly fabricated by hand from die-cut, aircraft quality polished .060 aluminum. Each radiator is built with welded fan mounts and comes complete with an electric fan, drain plug and radiator cap. Every model is assembled and tested for superior heat rejection.

Keeps engines cool when it really counts.