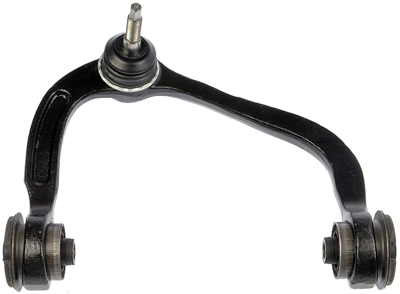 the most comprehensive,
all-inclusive control arm program in the aftermarket!!!
Dorman® has the largest coverage for the most failure-prone applications. There is no late-model coverage of control arms offered elsewhere in the aftermarket. Dorman® offer's control arms for all domestic and import cars, popular light trucks, and SUV's. No one in the aftermarket wants to be forced to source parts from, or send their customers to, the OE dealer, since failed control arm fails are re-stocked at OE dealerships in the first place. The better alternative is a Dorman OE Solutions, a line of application-specific, new-to-the-aftermarket contol arm. The control arms are engineered to be OE specific that fit and function exactly like the OE equivalent. At Dorman®, they take pride in the quality of their products and in your satisfaction with their performance!
Each Kit Includes: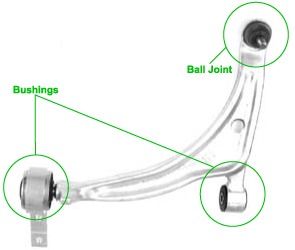 FAILURE MODES:
Wear
Worn ball joint deforms control arm seat
Damaged when pressing out/in ball joint
Worn bushings can damage the arm


Crash/Road Hazard
Control arms bend/deform due to minor impacts
Control arms can bend from pot holes, curbs, and speed bumps


Component Wear on Integrated Assemblies
Ball joint or bushings cannot be replaced separately on some units
Samples of Control Arms:
| | |
| --- | --- |
| 1973-1984 GM Trucks | 1999-2000 Ford and Mercury |
| 1996-2000 Chrysler and Dodge | 1995-2002 Ford |
Control Arm Applications:
Acura Control Arm

Audi Control Arm

BMW Control Arm

Buick Control Arm

Cadillac Control Arm

Chevrolet Control Arm

Chevrolet Truck Control Arm

Chrysler Control Arm

Dodge Control Arm

Dodge Truck Control Arm

Eagle Control Arm

Ford Control Arm

Ford Truck Control Arm

Geo Control Arm

GMC Truck Control Arm

Honda Control Arm

Hummer Control Arm

Hyundai Control Arm

Infiniti Control Arm

Lincoln Control Arm

Mazda Control Arm

Mazda Truck Control Arm

Mercedes-Benz Control Arm

Mercury Control Arm

Merkur Control Arm

Mitsubishi Control Arm

Nissan Control Arm

Nissan Truck Control Arm

Oldsmobile Control Arm

Plymouth Control Arm

Plymouth Truck Control Arm

Pontiac Control Arm

Saturn Control Arm

Suzuki Control Arm

Toyota Control Arm

Toyota Truck Control Arm

Volkswagen Control Arm