If your not sure what part you need for your vehicle
Please visit our Ebay store to find auto parts for your car or light truck.
There you can easily search by year-make-model

273 Exhaust manifolds that Cover Over 90 Million Vehicles!!!
Dorman® has the largest range of exhaust manifolds available in the aftermarket for both domestic and import vehicles. No one in the aftermarket wants to be forced to source parts from, or send their customers to, the OE dealer. The better alternative is a Dorman OE Solutions, a line of application-specific, new-to-the-aftermarket exhaust manifold. Each Dorman® exhaust manifold kit comes with the exhaust flare hardware and gaskets necessary to perform the installation.* The exhaust manifolds are engineered to be OE specific that fit and function exactly like the OE equivalent. At Dorman®, they take pride in the quality of their products and in your satisfaction with their performance!
*On some applications, the OE manufacturers do not require gaskets.
Each Kit Includes: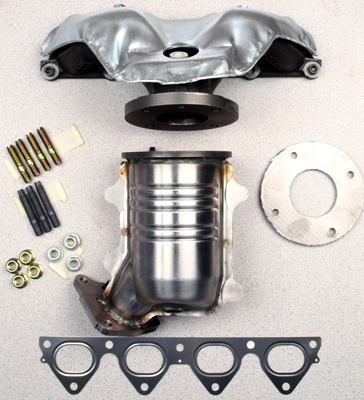 Sample Exhaust Manifold Kit
Exhaust manifold kit applications:
Acura Exhaust Manifold

Buick Exhaust Manifold

Cadillac Exhaust Manifold

Chevrolet Exhaust Manifold

Chevrolet/GMC Truck Exhaust Manifold

Chrysler Exhaust Manifold

Dodge Exhaust Manifold

Eagle Exhaust Manifold

Ford Exhaust Manifold

Geo Exhaust Manifold

Honda Exhaust Manifold

Hummer Exhaust Manifold

Hyundai Exhaust Manifold

Mitsubishi Exhaust Manifold

Nissan/Nissan Truck Exhaust Manifold

Oldsmobile Exhaust Manifold

Plymouth Exhaust Manifold

Pontiac Exhaust Manifold

Toyota Exhaust Manifold