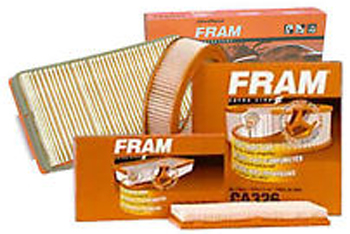 FRAM® Air Filters provide high levels of protection from dust and dirt, preventing damage to valves, cylinders, rings, rockers and bearings. Yet, because engines need 10,000 to 12,000 gallons of air to burn one gallon of fuel, FRAM air filters are engineered to allow air flow. You get top protection of your air intake without sacrificing the correct fuel-to-air ratio.

Finally a true breakthrough in air filter technology! Unlike ordinary fibers new Triad™ technology actually helps trap dirt inside tiny microscopic channels to trap more dirt without a subsequent increase in air flow restriction. Combined with FRAM's high efficiency blend of round and synthetic fibers, FRAM Extra Life III with Triad™ technology represents the new state of the art in automotive air filters.

It is recommended that air filters should be checked with every oil change.
Clean Air Filter:
More airflow for improved performance. A clean air filter helps to keep damaging particles from entering your engine and causing increased engine wear. Additionally, dirty air filters restrict airflow which can contribute to decreased acceleration, horsepower, and reduced overall performance.
That is why the experts at FRAM® engineering laboratories recommend changing every 12,000 miles!
Changing Your Car or Truck's Air Filter Is Easy:
1. Loosen wing nut or other fasteners to remove filter cover.
2. Remove old air filter. Clean air filter cover and housing.
3. Install new air filter. Replace cover and fasten.