Install a high quality K&N Filtercharger Injection Performance Kit and feel the power in the air! You get better acceleration and instant power!
In the K&N tradition of engineering power, the K&N Filtercharger Injection Performance Kit (FIPK) dramatically reduces intake restriction as it smoothes and straightens air flow. This allows your vehicle's engine to inhale a larger volume of air than the OEM air filter assembly. More air means more usable power and torque throughout the engine's RPM range, with even greater power gains in turbocharged and supercharged engines. FIPK's are available for many popular performance vehicles, and are designed to replace the original air filter case without jeopardizing important emissions standards. Exempted by the California Air Resource Board, FIPK's make it possible to experience the rapid acceleration of enhanced air flow while meeting their tough emissions standards. These FIPK's are washable, reusable and backed by K&N's unique 10 year Million Mile Limited Warranty. Get one for your vehicle now!
The World's Best Flowing, Best Filtering, High Performance "Street Legal" Air Filtration Systems.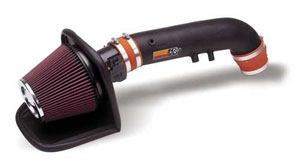 THE FIPK DESIGN CONCEPT
The FIPK was designed to promote performance in fuel injected stock engines by creating air filtration with the least resistance in air flow. The benefit of low resistance air filters can be felt directly in throttle response. In addition to the filter, these kits have uniquely designed adapters. These adapters create a radius entry which reduces restriction and allows the engine to ingest an even greater volume of air. To design such an assembly, two factors must be considered: the air filtering element and the air filter adapter. The FIPK combines a precision high flow K&N air filter element with other necessary components, depending on the specific application. K&N's Generation II represents yet another evolution in air intake technology. These break-through engineering designs contain all the performance improvements you expect from K&N - but with even greater benefits. What is truly remarkable about the Generation II kits is that they consistently achieve incredible horsepower gains even under varying atmospheric conditions. This process is accomplished by replacing the entire air intake tract, thus isolating the cold air and directing the air through this truly unique chamber delivery system. This process may or may not include a heat shield. In fact, during testing on a Jeep Grand Cherokee we had repeat gains of 26.3 horsepower. We also have dyno test results showing torque increases through the towing ranges of no less than 23 ft. pounds.
THE FIPK EFFECT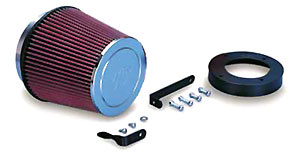 Replacing the O.E.M. factory air cleaner assembly with a precision engineered K&N FIPK or the Generation II, will provide fully maximized air flow potential, creating an instant throttle response to please any performance enthusiast. Because they meet the standards of the C.A.R.B., FIPK's come with a high temperature label that contains an E.O. number. FIPK's are the results of K&N's Engineering vision and excellence: the vision to create environmentally sound performance products and the excellence to stand behind those products. To ensure all the power and performance that your fuel injected stock engine is capable of giving, install a high quality K&N Fuel Injection Performance Kit and feel the power in the air! What does this mean to you? You get better acceleration, instant power, and ease in lane changing and passing even while towing by installing our FIPK Generation II. K&N gives you performance that will last for 10 years or one million miles, and we guarantee it!
K&N Performance Kit Features:
Better Acceleration

Increases Power (up to a 26 HP gain)

Filter is Washable and Reusable

Will NOT Void Vehicle Warranty

Lasts up to 50,000 miles before service is required

Replaces OEM Filter and Air Box

CARB Approved

Emission Legal in all 50 States (57 Series)

10 Year / Million Mile Limited Warranty

Works with Equipment Manufacturer Computer Systems