Not Sure Which Lights Your Vehicle Uses?
Find the right light number for your vehicle here -----> CLICK HERE
Now there's a new star on the road, burning brighter and whiter than halogen ever has. SilverStar illuminates with a searing intensity, exceeded only by far more expensive High Intensity Discharge lighting. SilverStar is fueled by advanced design and backed by the prestigious Sylvania brand with its longstanding commitment to halogen innovation. The result is an entirely new night driving experience, one that results in safer travel, a high-end appearance, and clearer visibility for all drivers. SilverStar provides drivers with an unparalleled level of illumination and meets all FMVSS 108 and CMVSS 108 requirements.
Features:
Whitest
SilverStar's color temperature is a white hot 4,000 K,
far higher than other halogens on the market and comparable
to High Intensity Discharge headlights

Brightest
SilverStar shines with a luminance up to
20% greater than other halogens

Sharpest
A sharp profile, silver tip, and amethyst blue coating create
a dramatic, high-end, crisp, clean look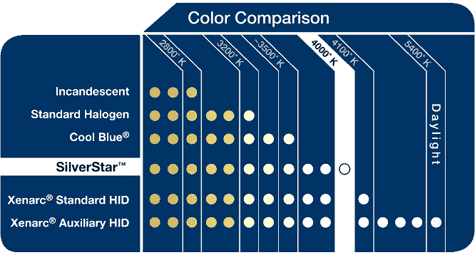 Applications:
H4651ST
Fits All Vehicles that Take a 4651 or H4651 Style Beam

H4656ST
Fits All Vehicles that Take a 5656 or H5656 Style Beam

H4666ST
Fits All Vehicles that Take a 4666 or H4666 Style Beam
H6024ST
High/Low Beam. Maximum 65W/55W
with 7 inch round headlight
H6054ST
High/Low Beam. Maximum 60W/70W
PRODUCT NOTE: This item is sold as an individual (1) bulb. For two or more, please specify the quantity you would like when ordering.