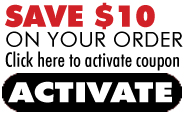 The WeatherTech Bumper Protector is a great addition to your custom cargo liner. Protects your vehicle's bumper from dings and scratches when moving items or pets in and out of your cargo area. The bumper protector is made from highly durable vinyl. It easily snaps onto your cargo liner with stainless steel, rust resistant snaps. The bumper protector comes in two(2) sizes: 30" x 30" and 30" x 40", and comes along with the vehicle specific cargo liner . When you want to use, just snap the bumper protector onto your cargo liner, and unroll it so it covers your vehicle's bumper. When finished, just roll the bumper protector up and hold it place with sewn in hook and loop straps.

Bumper Protector Features:
Quick and easy to use

Protects your bumper while
loading and unloading cargo

Attaches to the cargo liner
with 4 snaps

Just unroll when
you need it

Velcro straps keep the
bumper protector in place
when not in use

Size is specific to the
cargo liner application
30"x30" or 30"x40"

NOTE: Bumper protector
comes in black only
Cargo Liner Features:
Interior protection from all types
of wear and tear

Custom molded specifically
for your vehicle

Easy installation

High outside lip helps contain spills

Quick and easy cleanup

A skid-resistant surface

Protects and preserves the cargo
area and trunk carpet

Engineered for toughness and durability
Cargo Liner Colors Available:
IMPORTANT DELIVERY NOTE: Please allow 7-10 business days for all WeatherTech® Cargo Liners to be delivered.
No 2nd Day Air Available!