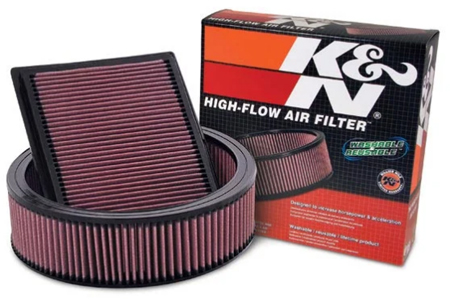 | | |
| --- | --- |
| | |
More air flow, increased horsepower, long lasting performance - even after 35 years, the K&N Filtercharger is still on the cutting edge of air filtration technology.

When it was first developed in 1962, the K and N Filtercharger was a true design breakthrough in air filtration technology. Today, it still is. Because K and N's Filtercharger can actually double air flow, which, in turn, adds up to 15 extra horsepower. The secret lies in the K and N Filtercharger's unique design. Conventional filters use paper or foam material permeated with millions of tiny, irregular passages, that screen dirt particles out of the air. Because the dirt particles are trapped inside the passages, they eventually clog; and when this occurs, airflow restriction increases dramatically.

With the Filtercharger, a special cotton fabric is sandwiched between the pleated aluminum screen wires. The pleated design provides five times more filtering surface over the element circumference. The cotton/screen wire filter media is then saturated with a formulated air filter oil. Acting like a fluid curtain, this oil attracts particles of dirt and debris which build up on the outside of the filter. This buildup of dirt particles suspended in oil creates more and more irregular passages that actually create an additional filtering barrier with use. Not until very fine particles close this secondary "filter layer" does the filtercharger begin to clog.

In most cases, up to 1/8" of dust can cover a Filtercharger before performance is significantly affected. On a street driven vehicle, a Filtercharger can last up to 50,000 miles before service is required. Then, because it's made of reusable materials, you can just clean it, apply fresh K and N Filter Oil and Re-install. Of course, K and N has developed biodegradable cleaning products designed to effectively clean the filter without harming the environment through the absence of fluorocarbons.


Features:
High air flow with excellent filtration

Designed to increase horsepower
and acceleration

Washable and reusable

Will NOT void vehicle warranty

Lasts up to 50,000 miles before cleaning
is required depending on driving conditions

10 Year/Million Mile limited warranty

Emissions legal in all 50 U.S. states

Economical, lasts the Life of your vehicle

Works with OEM vehicle electronics

Environmentally friendly