| | |
| --- | --- |
| | |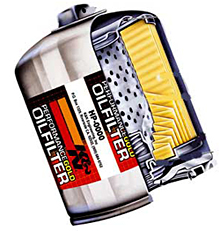 K&N Performance Gold Oil Filters for automotive and marine applications have been constructed from the ground up to satisfy the high performance needs of race car owners and drivers, as well as the average vehicle or boat owner who wants the very best oil filter available. K&N oil filter's efficiency rating meets or exceeds the requirements of high performance automotive engine builders. The heavy duty construction provides over 550 psi hydrostatic burst*, and helps reduce the risk of rock and stone damage. The real quality isn't just on the outside... the inner filter element traps contaminant as small as 10 to 20 microns in size. We use metal top end caps instead of paper to ensure that no unfiltered oil can get back into the system. The solid construction allows for oil flow rates between 12-16 gallons per minute (depending on filter size), and is unaffected by racing fuels. All K&N Performance Gold Oil Filters are manufactured to exacting engineering standards. They are covered by a limited warranty to be free from defects in materials and workmanship when installed and replaced using engine and equipment manufacturers recommended service interval.
Features:
Drilled safety wire holes for racing.

Sturdy 1" wrench nut makes
removal quick and easy.

Metal leaf spring provides a positive seal
between element and lid.

Heavy duty construction provides over
550 PSI hydrostatic burst, and helps reduce
the risk of rock and stone damage.

Resin-impregnated filter media provides maximum
filtering surface for contaminant removal.

Inner core provides extra structural support
to prevent filter collapse.

Anti-drainback valve (where applicable) eliminates dry starts,
prevents oil from draining back into crankcase during engine shutdown.

Internally lubricated gasket provides positive seal
while allowing easy on and off of filter.

Rolled threads provide extra protection against stripping.