Turn Nighttime Into Bright Time Behind Your Truck, SUV or RV / Trailer Receptacle!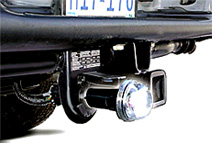 Ever wish you had more light while hooking up a trailer, setting up camp, working on the job, loading and unloading items or just simply backing up you truck or SUV in low light or dark conditions? The Light Buster Trailer Hitch Accessory Light By Blazer International is a dual-purpose back-up and utility light that plugs directly into any truck, SUV or RV equipped with automotive 7-way round wiring receptacles. Plug It In & Go! The light is very easy to install and requires no wiring or tools. When not in use, you can leave it plugged in or just simply unplug the light and store it in the glove box. The Light Buster lets you see behind your vehicle on the darkest nights with incredible clarity.
The Light Buster Trailer Hitch Accessory Light features a powerful 35-Watt Halogen bulb that can illuminate 20' diameter beam of ultra bright white light behind your vehicle! Use it in back-up mode and every time you put your vehicle in reverse, the Light Buster will illuminate everything behind you for more visibility. Switch to utility mode by turning on your running lights and the Light Buster will stay on. Perfect for contractors, snow plowing, sportsmen, hunting, fishing, boating, camping, outdoor events and more. The Light Buster Trailer Hitch Accessory Light is always there for you, whenever or wherever you need extra lighting behind you vehicle.
Features:

Dual-Purpose Back-Up and Utility Light
Increased Visibility When Backing
Easy To Install
No Wiring Or Tools Required
Fits any vehicle with 7-way Round Wiring Receptacles
Powerful 35-Watt Halogen Bulb
Illuminates up to 20' Diameter Beam Of Light
Sturdy Water Resistant Construction
Stores In Glove Box Or Rear Cubby
Specifications: 6" In Length


Plug It In & Go!


The Light Buster Trailer Hitch Is Always There For You:

Hunting
Boating
Camping